Welcome/Bienvenue
We are a French Catholic based Long-Term Care Facility, affiliated with Sask. Health Authority. Villa Pascal is a member of the Catholic Health Association of Saskatchewan and of Canada.
In partnership with others, we create and offer a safe, healthy and comfortable, home-like environment for residents, families, staff and volunteers.
In keeping with the teachings of the Catholic Church, our dedicated and caring team provides compassionate holistic care, with respect for the uniqueness of all people.
Click this link to view "You're at Home Here" - Villa Pascal Lottery video
Visiting Hours: (Starting Monday May 16th)
*Please do not park in Staff Parking Lot*
Visiting times (in Resident rooms only):
Mondays……………….. 1:00-8:00 pm
Tuesdays………………. 1:00-8:00 pm
Wednesdays………….. 1:00-8:00 pm
Thursdays……………… 1:00-8:00 pm
Fridays………………….. 1:00-8:00 pm
Saturdays………………. 1:00-8:00 pm
Sundays…………………. 1:00-8:00 pm
Do not park in our Loading Zone.
Engines must be turned off while loading under the canopy.
In order to ensure a smooth transition from locked east staff door to the main entrance:
There is a loading zone under the covered front entrance. Vehicles will not be allowed to park there unless picking up or dropping off residents for appointments.

Engines must be turned off

while parked under the canopy.

Visitors are expected to park anywhere but the Employee parking lot.

All visitors must sign in and out in our guest register inside the front doors.

Nurses must be notified if any residents are taken out of the building.

Make sure you hand sanitize upon entry and before entering and after leaving the resident's rooms.

Masking is important as well, but can be removed once in the resident's room.

Do not share food or drink with the residents.
The Board of Directors wanted a public representation of the generosity from the community, Villa families and friends and local businesses who helped fund the recent renovation.
This beautiful donation tree was designed by Kyla Vaughn and constructed by Nutec Embroidery.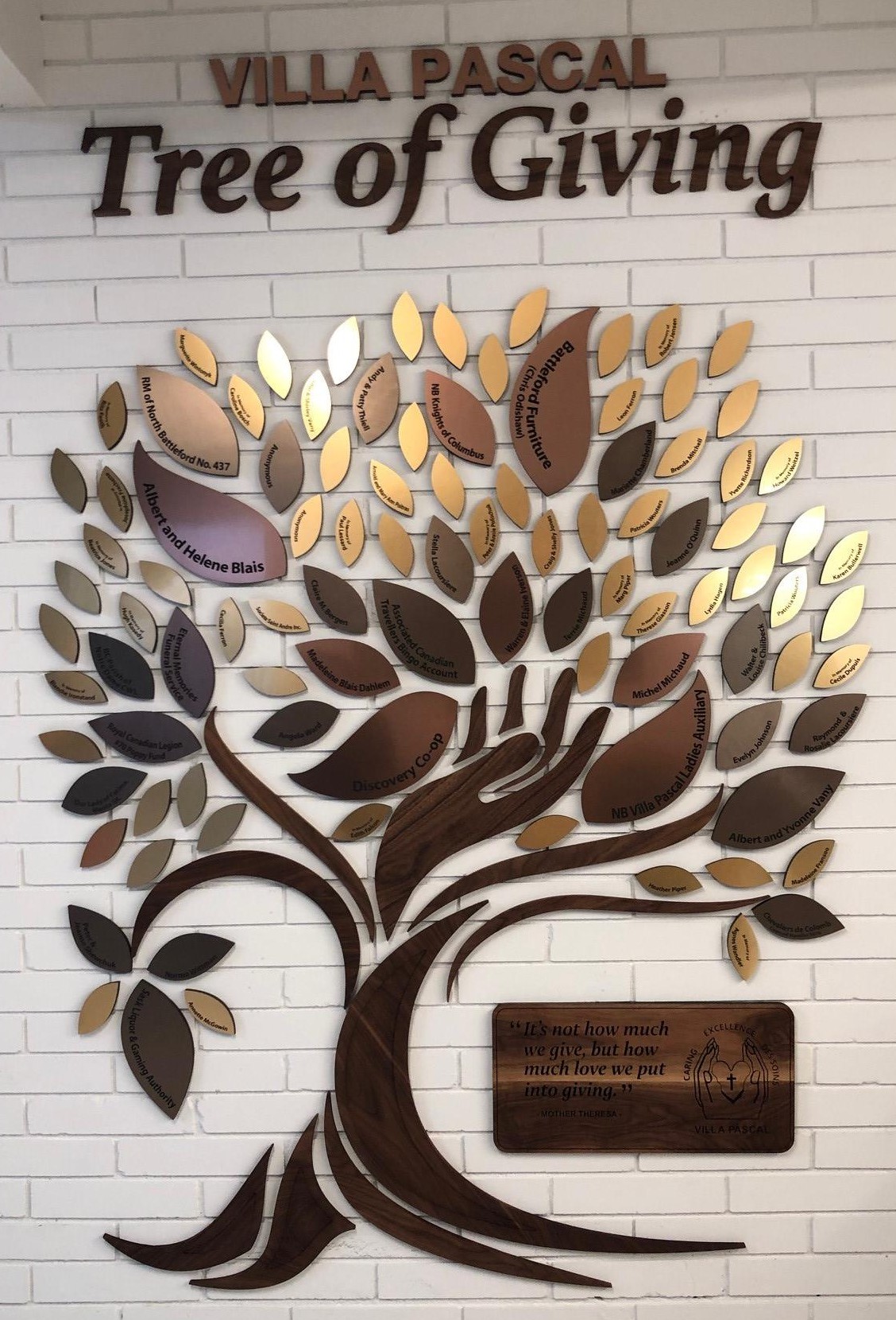 ---
FALL RAFFLE WINNERS!
The Recreation Department Fall Raffle was a great successs, and we send a big THANK YOU to all those who purchased tickets!
Over $1700.00 was raised for Resident Activities and Outings!
The Winning Tickets were drawn on Dec. 22, 2022.
1ST PRIZE: SWIVEL ACCENT CHAIR- DONATED BY GUY'S FURNITURE
WINNER: DON NASH (MEDICINE HAT)
2ND PRIZE: HANDMADE QUILT & SHAMS – DONATED BY DOREEN SAWCHYN
WINNER: DOUG HARRISON (BATTLEFORD)
3RD PRIZE: BASKET OF GOODIES – DONATED BY RECREATION DEPT
WINNER: LINDA LAYCOCK (BATTLEFORD)